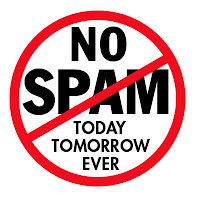 Embassy of the United States of America
Plot 1075 Diplomatic Drive
Central District Area, Abuja.
call me +2348038255376
Dear Friend
THIS IS Ambassador James F. Entwistle, UNITED STATE OF AMERICA AMBASSADOR TO NIGERIA. I SHALL BE COMING TO YOUR COUNTRY FOR AN OFFICIAL MEETING ON TUESDAY AND I WILL BE BRINGING YOUR FUNDS THROUGH AN ATM MASTER CARD OF $15M ALONG WITH ME BUT THIS TIME I WILL NOT GO THROUGH CUSTOMS BECAUSE AS AN AMBASSADOR TO NIGERIA, I AM A US GOVERNMENT AGENT AND I HAVE THE VETO POWER TO GO THROUGH CUSTOMS. AS SOON AS I AM THROUGH WITH THE MEETING I SHALL THEN PROCEED TO YOUR ADDRESS. (SEND YOUR CELL PHONE NUMBER AND THE ADDRESS WHERE YOU WANT ME TO BRING THE PACKAGE).
YOU HAVE REALLY PAID SO MUCH IN THIS DELIVERY THAT MAKES ME WONDER. YOU ARE A VERY LUCKY PERSON BECAUSE I SHALL BE BRINGING IT MYSELF AND THERE IS NOTHING ANYONE CAN DO ABOUT IT. CHECK HERE: http://nigeria.usembassy.gov/biography.htm
THERE IS ABSOLUTELY GOING TO BE GREAT DOUBT AND DISTRUST IN YOUR HEART IN RESPECT TO THIS EMAIL COUPLED WITH THE FACT THAT SO MANY MISCREANTS AND IMPOSTERS(SCAMMERS) HAVE TAKEN POSSESSION OF THE INTERNET TO FACILITATE THEIR NEFARIOUS DEEDS, THEREBY MAKING IT EXTREMELY DIFFICULT FOR GENUINE AND LEGITMATE BUSINESS CLASS PERSONS TO GET ATTENTION AND RECONGNITION
YOUR PACKAGE($15M) MUST BE REGISTERED AS AN AMBASSADORIAL PACKAGE FOR ME TO DEFEAT ALL ODDS AND THE COST OF REGISTERING IT IS $85.THE FEE MUST BE PAID IN THE NEXT 50 HOURS VIA MONEY GRAM SO THAT ALL NECESSARY ARRANGEMENT CAN BE MADE BEFORE TIME WILL BE AGAINST US.
YOU SHOULD SEND THE FEE DIRECTLY TO THE CARGO REGISTRATION OFFICER
WITH THE INFO BELOW-
RECEIVER'S NAME: OKOATA NATHAN
ADDRESS: NIGERIA
TEXT QUESTION: WHAT COLOUR?
ANSWER: BLUE
AMOUNT $85
SENDERS NAME:
SENDERS ADDRESS:
AS SOON AS YOU SEND THE FEE MAKE SURE YOU SEND ME THE PAYMENT INFORMATION. MY FLIGHT IS TUESDAY AND I EXPECT YOU TO COMPLY BEFORE THEN SO THAT THE DELIVERY CAN BE COMPLETED. IF YOU DO NOT COMPLY, THEN IT WILL NOT BE MY FAULT IF YOU DO NOT RECEIVE YOUR PACKAGE.
SIGN
Ambassador James F. Entwistle
U.S. Ambassador to Nigeria
US AMBASSADOR TO NIGERIA
CHECK HERE VIEW MY DATA: http://nigeria.usembassy.gov/biography.html
Sender's Details :
from: Ambassando James <[email protected]>
reply-to: [email protected]
to: Recipients <[email protected]>
date: Sat, Apr 2, 2016 at 4:14 PM
subject: Dear Friend
encryption: Standard (TLS) Learn more