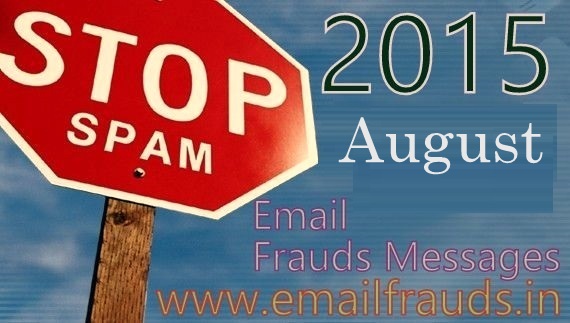 The UK Jackpot Lotto Incorporation
46 Bush Road, Off Stamford Line PE92YP,
PO Box 1010, Liverpool L70 1NL, United Kingdom
====================================
Reference Number (UK/0147X4/74),
Serial Number: 8501-07
Congratulations!!
If you are the correct owner of this EMAIL ADDRESS, then be glad this day as the result of the UK JACKPOT lottery online e-mail address free-ticket winning draws of August 2015 held here in London has just been released, and you have been awarded the sum of £850,000.00 (Eight Hundred and fifty thousand Pounds) by the committee set up by the lottery Board
Just in case you are still wondering of how you won without buying a ticket, then know again that this very draw of August 2015 in which you have emerged as a winner was a free ticket online email address draws where thousands of email addresses was collected from almost all world wide websites and used for the online draws and during selection your email address came out as the winner of the draw.
NOTE
For security reasons you are advise to keep your winning information confidential till your claims is processed and your cash prize is remitted to you. This is part of our precautionary measure to avoid double claiming and unwarranted abuse of this program,
Please be warned.
Below here is the claim verification and funds release form, you are hereby advice to fill and submit back to the fiduciary manager Email: [email protected]
VERIFICATION AND FUNDS RELEASE FORM
FULL NAMES:
ADDRESS:
SEX:
AGE:
MARITAL STATUS:
OCCUPATION:
E-MAIL ADDRESS:
TELEPHONE NUMBER:
MOBILE NUMBER:
AMOUNT WON:
STATE:
COUNTRY:
NEXT OF KIN:
ZIP CODE:
15: NATIONALITY:
16: Reference Number, Serial numbers:
To file for your claim, please fill and submit your verification form to our fiduciary manager immediately via information below.
Dr. Peter M. Voser (Payment Officer)
UK Lotto Incorporation Company Payment Department of United Kingdom,
Contact No. Tel: +447017045993, +447010064528
E-mail: [email protected]
from: UK National <[email protected]>
reply-to: [email protected]
to:
date: Fri, Aug 21, 2015 at 3:40 AM
subject: Congratulations!!