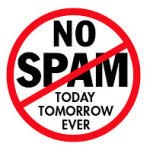 If you have received the Message as quoted in then you are notified since these messages are spams one and likely to make you fool or rather cheat you…..
CONGRATULATION!!YOU HAVE WON(1,000,000.00 GBP)IN SAMSUNG LOTTERY PROMOTION
TO GET YOUR WINNING ATM CARD SEND YOUR DETAILS FOR CLAIMS.VIA EMAIL:([email protected])+16023549305
Sender's Details :
from: [email protected]
reply-to: [email protected]
to: Recipients <[email protected]>
date: Sat, Jun 7, 2014 at 2:26 AM
subject: CONGRATULATION!!