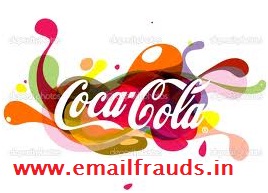 Dear Lucky Winner,
Year end celebration of seasonal inspiration with our value customer around the word. The Coca-Cola Company, We are pleased to inform you of the release of email balloting held in the year 2013/2014promo, this is to inform you that your email have won prize of 1,000,000.00 GBP ( One Million Great British Pounds) and laptop in COCA COLA INTERNATIONAL ANNUAL EMAIL DRAW PROMOTION 2014 held in London, You are to contact claim agent Sir. Alex Williams via email: [email protected] with your following details below:- [email protected]
FILL OUT THIS FORM
1. Full Names:
2. Your Full Address:
3. Your Age:.
4. Your Nationality:
5. Your Country of resident:
6. Your City:
7. Your Occupation:
8. Sex: Male
9. Marital Status:
10.Winning Email Address:
11. Your Mobile Number :
12. Amount Won: 1,000,000.00 GBP ( One Million Great British Pounds)
13. BATCH/REFERENCE NO:
Preferred mode of payment:
1: Bank Telegraphic Wire Transfer
2.: Bank Cheque delivery by courier
State your selected mode here ..Bank Cheque Delivery by Courier…………….
For option 1. [Bank Telegraphic Wire Transfer], Provide your Banking details below; …………………………………… …………………………………… …………………………………… …………………………………… …………………………………… ……………………………………
DECLARATION:
I Mr. / Mrs. BEVEK MANGAR HEREBY DECLARE THAT THE ABOVE DATA ARE TRUE. THAT MY CLAIMS AGENT SHALL ACT AS A FACILITATOR IN THE TRANSFER OF THE TOTAL FUND TO ME.
DATE:..20/ 01/2014
Signed
Sir Alex Williams.
Online Coordinator.
Phone Number: +448719744176